Getting kids to school
Our team make every effort to increase admission by:
Planning village visits:
The staff and principal hold regular meetings to brain storm ways to raise awareness with the parents in villages of the importance of education and our school.
Some of the teachers went to some villages, like Sabalharh, Rajgarh, Katawali to distributed leaflets door to door about the school.
Whilst the world is getting used to digital marketing, most of the small villages are not used to this sort of advertising and would probably not see it.  As an alternative the team created and put banners up in prominent places to promote education and the school.
6th March – Holi
The kids enjoyed lectures on the significance of Holi and all the students, staff and principal had so much fun playing Holi.
Holi is a popular and significant Hindu festival celebrated as the Festival of Colours, Love and Spring. It celebrates the eternal and divine love of the god Radha adn Krishna.
It was a very colourful day!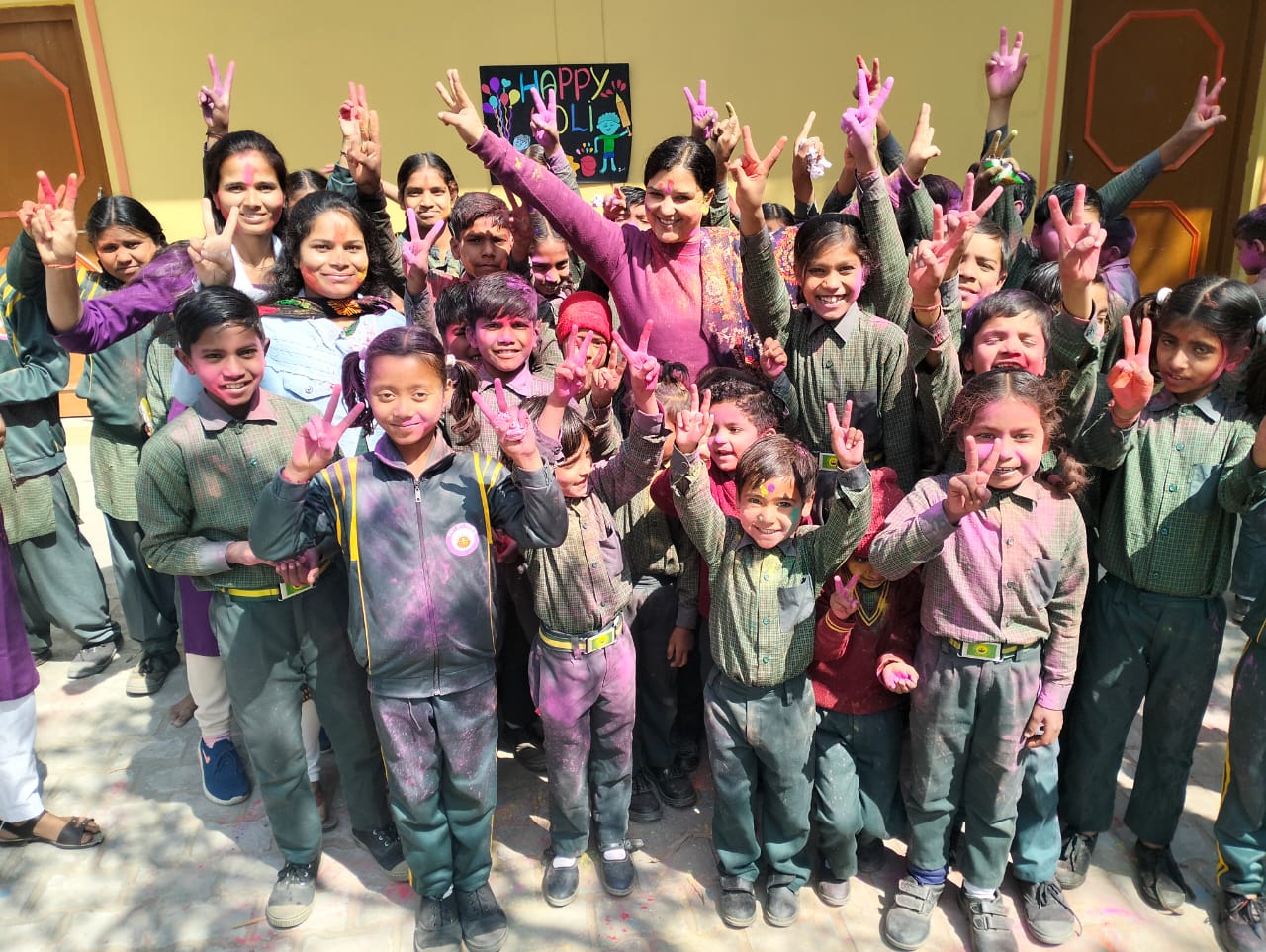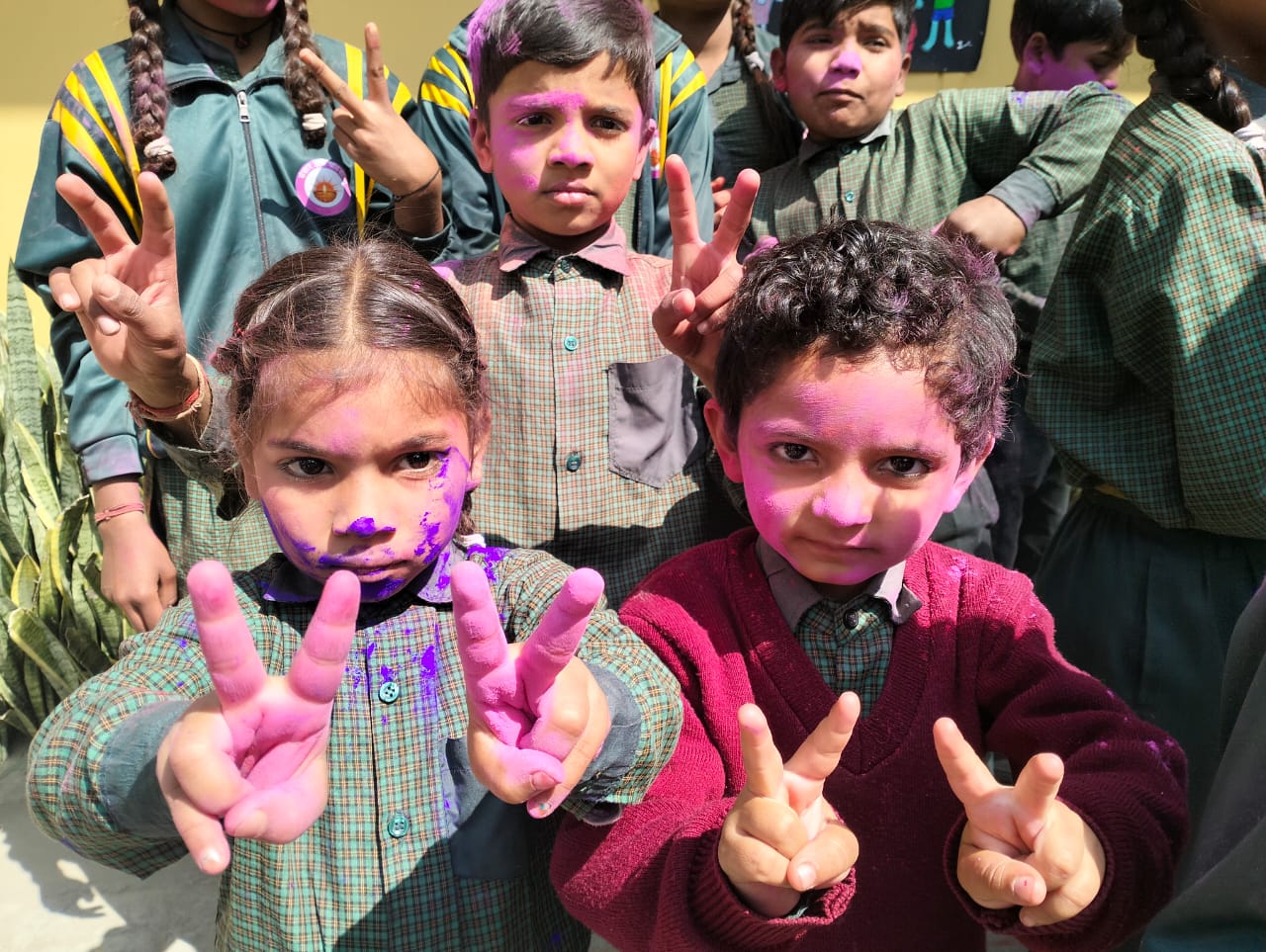 8th March Women's Day
We consider International Women's Day a very important day for our girls. Raising awareness of the rights of women is fundamental as our girls grow up into women.
We want them to understand that they do have rights and should have a voice.   We also want them to see that they can have a career.
Our female teachers are testamant to this and we hope that they will be good role models for them.
The kids celebrated by creating beautiful charts and posters aimed at embracing women's respect and empowerment.
We celebrate this day to embrace women's respect and empowerment.
16th March Guru-ji visit with Ashram guest
When Guru-ji comes to the school it's always an exciting day for the kids.
He came to school with ashram guests who talked to the kids about the importance of education
Guruji also congratulated the children on their achievements and gave them encouragement for the next term.
The team try to keep the kids aware of important days like World Water Day.
World water day is about accelerating change to solve the water and sanitation crisis which is very important in India.
The kids celebrated World Water day with a great deal of enthusiasm and participated with fund in all the lectures about the importance of water and ways to conserve It.
WORKSHOP – GIRLS EDUCATION
Our Principal Meenakshi Sharma gave a workshop girls' education as part of our girls education programme.  She stressed the importance of education and how it can  transforms communities, countries, and even the entire world. Girls who receive an education are less likely to marry young and more likely to lead healthy, productive lives. They earn higher incomes, participate in the decisions that most affect them, and build better futures for themselves and their families.
Girls' education strengthens economies and reduces inequality. It contributes to more stable, resilient societies that give all individuals, including boys and men.  It also gives women the opportunity to fulfil their potential. She explained why it's so important for girls to be educated:
National growth rates rise
Child marriage rates decline
Child mortality rates fall
Maternal mortality rates fall
Child stunting drops